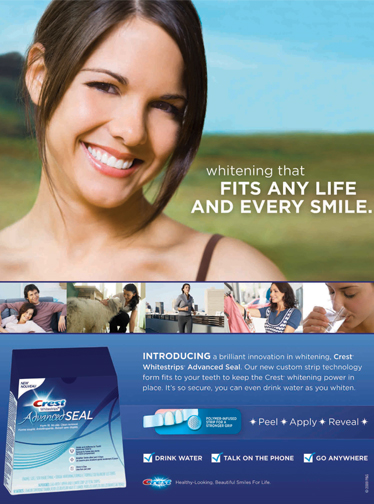 There is another new coupon available on Save.ca today!  You can save $5 on Crest Whitestrips Advanced Seal when you order your coupon through Save.ca.
With revolutionary new Crest Whitestrips Advanced Seal, life doesn't stop just because you're whitening. Its groundbreaking adhesive formulation holds the Whitestrips in place, so you can whistle along with the radio, take a shower, and even drink water while you whiten!
Formulated with the same enamel-safe whitening ingredient dentists use, Crest Whitestrips Advanced Seal is a teeth whitening system that removes surface stains and those below the enamel. Use them for 14 days, and get whiter teeth that last.
Apply Crest Whitestrips Advanced Seal once a day for 30 minutes. You'll start seeing whiter teeth after 3 days, and full results in 14.
Click here to order your coupon.
Thank you Melody113 for the information.