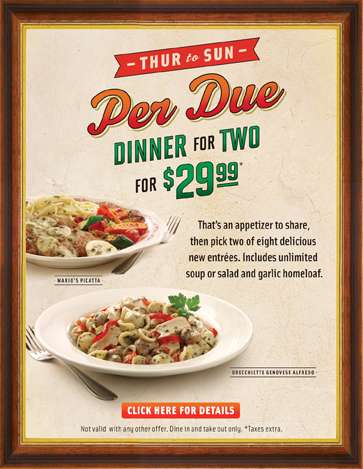 Mmmmmm …. cheap dinners.  East Side Mario's isn't really that expensive to beging with, but when two people can have dinner for $29.99, that's even better!
Right now from Thursday to Sundays, East Side Mario's is allowing two people to have dinner for only $29.99!  It includes the famous unlimited salad and homeloaf, an appetizer to share, and two of the following entrees to choose from:
SPAGHETTI and MEATBALLS BOLOGNESE: Tasty meatballs simmered with Italian Bolognese sauce. The meatballs are made with both pork and beef.
ANGEL HAIR PRIMAVERA: Sauteed fresh vegetables with oven roasted tomatoes, snow peas, and basil tossed in herbed garlic oil.
ORECCHIETTE GENOVESE ALFREDO: Seasoned chicken breast sauteed with whole roasted mushrooms, fire roasted red peppers and sun dried tomatoes, tossed in a creamy Pesto Alfredo and Italian Orecchiette pasta.
The Orecchiette dish is the Pasta Challenge winner.
SPAGHETTI CARBONERA: Seasoned chicken breast with onions, pancetta and bacon, sauteed in extra virgin olive oil and then tossed in creamy Alfredo sauce.
TUSCAN CHICKEN SALAD: Grilled seasoned chicken breast, naval orange slices, julienned figs, red onion and mixed greens tossed in a balsamic fig vinaigrette and topped with toasted almonds.
SEAFOOD MANICOTTI: Shrimp, scallops and whitefish sauteed with white wine, roasted garlic and mushrooms. It is then hand rolled in pasta with ricotta cheese and topped with a blend of cheeses, drizzled with a Besciamelli tomato sauce and then baked.
SPAGHETTI con FUNGHI: Grilled Portobello and white mushrooms, sauteed with fresh arugula and basil, tossed with spaghetti and Parmesan and Romano cheeses and herbed garlic olive oil.
MARIO`S MARSALA: Seasoned chicken breast sauteed with mushrooms and Italian Marsala wine. Served with fresh vegetables and Mario`s potatoes.
MARIO`S PICATTA: Seasoned chicken breast sauteed with mushrooms and white wine. It is then simmered with a lemon caper sauce. This is served with fresh veggies and spaghetti with herbed garlic olive oil.
Click here to find the location nearest you.
Thank you Shawnsgal for the information.