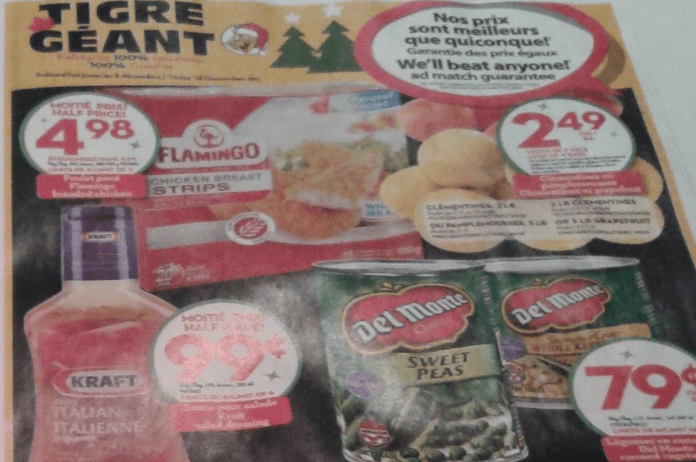 While many of the Quebec flyer sneak peeks are valid in Quebec stores only, some are very similar across the country.  We have two of these flyers to share with you today from Tioma. As with other Quebec flyer sneak peeks, you will likely see some differences, mostly in bathroom tissue, diapers, milk and bread brands and pricing.
Giant Tiger has some great prices this week, plus don't forget that they will price-match and you can use Coupgon mobile coupons to save even more on your purchase.
Lactantia cream cheese blocks $1.50
Arm & Hammer baking soda $0.50
Coke 15pk cans $3.33
Christie cookies $1.44
Dawn dish soap $1.67
Drano & Pledge products $3.99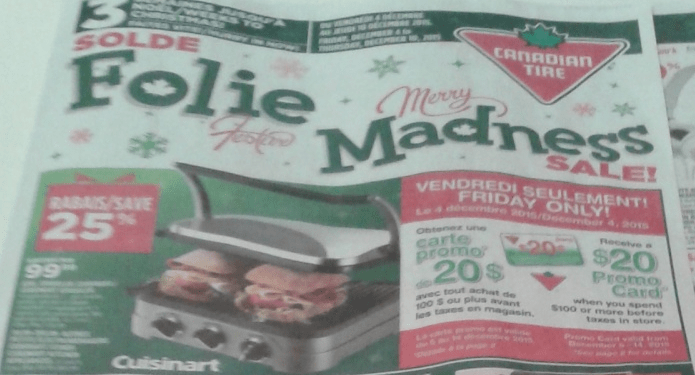 Canadian Tire flyer sneak peek
Canadian Tire is starting the week off with a Merry Madness sale.  Shop on Friday and get a $20 promo gift card when you spend $100 or more before taxes. Don't forget to share your most wanted items from the flyer with #CTWishAndWin, Canadian Tire may gift it to you.
Save 30% on Duracell multipack batteries
Up to 40% off select toys
Optima 1000 8pk paper towel $4.98
Old Dutch laundry detergent 4L $3
You will also earn 50x e-CT Money on the following products  (around 20% in points back on your purchase): Ove Glove, select Lego sets at $14.99, select Sylvania products, Maximum garden hose and more.