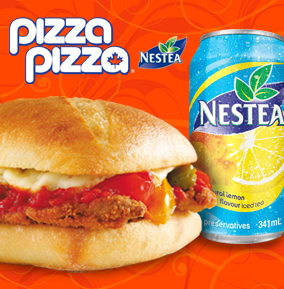 Icoke.ca and Pizza Pizza are pairing up to give you a free can of Nestea when you purchase one of Pizza Pizza's Italian sandwiches.
From their website:
"Just grab this coupon for a FREE* 355ml can of NESTEA® with the purchase of any Italian sandwich from Pizza Pizza.
Starting at $3.99, pair up your uber-refreshing drink with a Spicy Italian Sausage, Meatball Marinara, Chicken or Veal Sandwich. It's Italian-style fun with a refreshing twist!"
Offer valid in Saskatchewan, Manitoba, Ontario, and Quebec (excluding campus and other non-traditional locations)
You don't need to have any Icoke points to receive this offer but you must have an Icoke account.