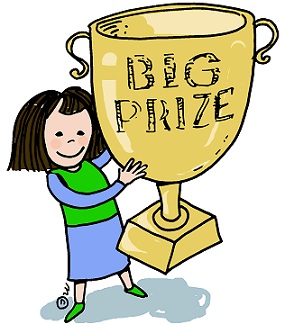 I have subscribed to a number of store newsletters over the past couple of years to find out great deals in record time.  After all, it is my job to bring you the latest sales, freebies or coupons!  It is not uncommon for me to open my Inbox and find 50 or 60+ emails every morning.  Most of them are junk mail, some are so-so deals, some are fantastic discounts and a large chunk of them are contests.  Yes, it seems if a store doesn't necessarily want to give you a good deal, they will run a contest instead.  And why not?  It makes them appear generous since a lot of these prizes are fantastic (trips, cars etc.) and they end up saving a ton of money!  It's a lot cheaper to shell out $5000 in points to one customer than offer a $1 discount to potentially a million people. 
I tend to skip over the contest emails unless the odds are really good.  And when the odds are good it is usually a locally run contest where the prize is minimal at best.  But, hey…a small prize is better than no prize!
What about you?  Do you enter contests?  If so, how often?  Have you won any great prizes from entering contests?  Let us know!