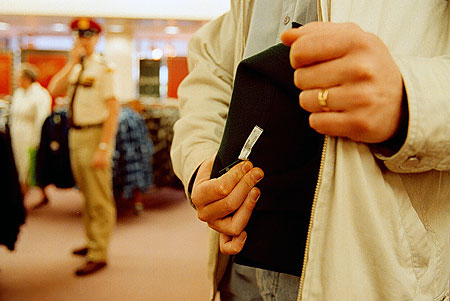 Shoplifting is nothing new.  It has been around since humans started offering goods for some kind of compensation.  Although the "young kid pocketing a CD" is the stereotype of your typical shoplifter, this is far from the truth.  Shoplifters come in all shapes and sizes.  Sometimes they are even the people behind the counter.
Yes, it appears the latest trend in shoplifting is employees stealing from their own workplace.  In fact, it is such a problem that many retailers are scaling back their efforts to catch consumer shoplifters and instead have turned the security cameras towards their own staff.  According to PricewaterhouseCoopers LLP and Retail Council of Canada, employee theft grew to 33% of theft-related incidents from 19% in 2008 and consumer theft dropped to 43% of reported incidents from 65% in 2008.  Apparently the must-have items are alcohol, fragrances, women's apparel and cosmetics.  Unfortunately, the reasons behind this increase are largely unfounded.  Perhaps employees have a dwindling loyalty to their workplace?  Or maybe times are tougher than in previous years?  Whatever the reason, there has been a change in the stereotype of your "typical shoplifter".
Bottom line is: shoplifting hurts all of us.  The retailers take a hit and in turn raise their prices to compensate for the loss.  At the end of the day, it is the hard-working Joe Average who pays the price for another person's crime.  It is almost maddening to think the prices and deals we eagerly seek each week could be even lower if people did not steal.
Do you report shoplifting?  Do you have any shoplifting stories you would like to share?  Let us know!