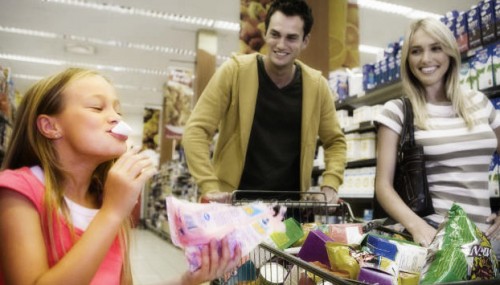 We have discussed this before on SmartCanucks and likely will again, but the topic came up on our facebook page yesterday.
Do you think it is ok to snack before paying in the grocery store?  Does this differ for you if it is a bulk item compared to a single priced item?
A few weeks back I saw a woman bring her banana skin to checkout with a 2nd banana, she handed both to the cashier and said "I ate the banana, it was around the same size as the other one, so just charge me for two".  As usual, bananas are checked out by weight, so the cashier can't just enter two x weight.  She countered by doing two weighs of the same banana.  She only had about five other items – would it have really killed her to wait to eat that banana.  She paid for it, which is much more than many people who like to 'sample' produce and bulk goods, but still…
Does your opinion change when it is a child? I know many people bring a snack for their child while shopping, but my neighbour was once stopped by loss prevention asking for the receipt for the snack bar her child was eating, which the store did sell in singles (which shows the issue of eating in the store is an issue for stores). But a snack can soothe a child and allow everyone to shop in peace.  Is it that big a deal to pay for the one item then shop?  Many stores have a customer service or hot food counter where you can pay for an item.
What about testing a grape to see how sweet they are before buying?  You can't check a cookie from the box or a slice of bread from a loaf – all those grapes must add up to lost profit and higher prices?
What do you think? Do you snack/sample while shopping?  Cashiers and other store employees, how does your store handle this?