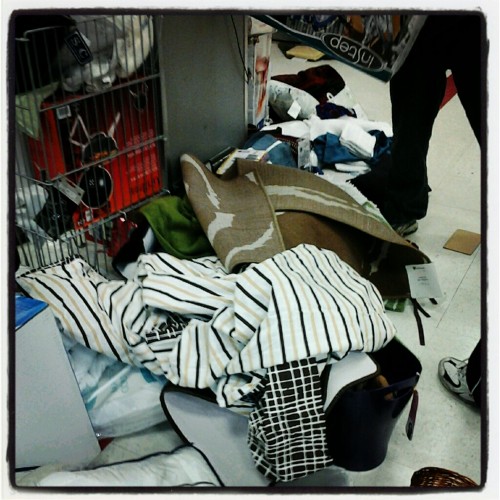 My local Zellers closes in just over a week, so we thought we would go by and see what deals they had left.
In the clothes section, people were arguing over a Jockey hoodie, one holding it by the hood, the other by an arm both saying they had seen it first – there were 6 more on the rack and it was not even the most amazing deal! In the electronics section, someone actually hit someone else with a Wii game.
But the mess amazed me, the picture above was taken beside a price checker, people were just looking at the price then throwing the item on the floor if too expensive.  None of the items we bought came up at the price it should have, one item that should have been $32.99 – 60% came up at $4.19 once the discount was taken and I price checked it at $32.99 so price checking was redundant anyway.  There were areas where everything had been knocked off the shelves and as quickly as staff were putting it back, people were throwing it back on the floor.
What is it about a liquidation sale that makes us lose all sense of how we should behave? 
There is no way we would go into a store on a regular day and just throw things we don't want on the floor.  Return them to the wrong area maybe, but not just chuck it on the floor right in front of a staff member who has to clean it up.  I know it is partly that the staff don't care as much with just a few days left and are likely not cleaning up as quickly but that alone cannot account for the disaster in these stores.