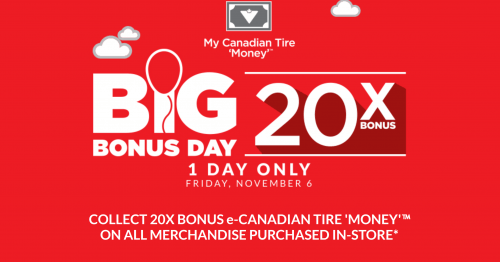 Canadian Tire has a great offer available in stores today, Friday, November 6! For one day only, head into stores and you can collect 20x bonus e-Canadian Tire Money on all in-store purchases! This offer is not valid on paper Canadian Tire money, so you must have a e-Canadian Tire money card, or a Canadian Tire MasterCard to get your bonus money. This is a great deal to take advantage of if you're a regular Canadian Tire shopper, as it will get you more e-money that you can redeem for savings on future Canadian Tire purchases!
If you hold a Canadian Tire MasterCard, you already receive 10x the e-money when paying with your card, and this offer can be combined with the bonus event, meaning you'll receive 30x the e-Canadian Tire money on your purchase!
This offer is valid today, November 6, 2015 only in-store. This offer is available on just about all in-store merchandise but excludes gift cards, lottery tickets, hunting and fishing licenses, tire disposal fees, tire taxes, rental charges, refundable deposits, environmental fees, repair charges, delivery or assembly charges, store services (other than automobile service), inter-store sales, account charges, towing charges, prepaid cards, phone cards, tobacco products or alcohol, Pit Stop parts/labour charges, and more.
Click here to learn more about this Canadian Tire offer,
Or click here to view deals in Canadian Tire's flyer.