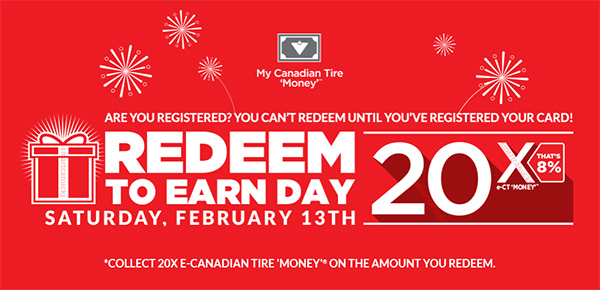 If you have been hoarding your Canadian Tire money, they have a great opportunity to redeem on Saturday 14th February.  You will be able to earn 20x e-Money on anything you redeem on that day.
The catch is, you have to use an e-CT account and not old paper Canadian Tire money but pop into any store with your e-CT app or card in advance of this redemption day and they can add your paper money to your account.  Plus your e-CT card must be registered in their system, so if you do not have one, or have not activated your account do so now.
If you spend $120 but only redeem $100, you will also earn the bonus money on the amount redeemed.  20x e-CT Money amounts to $8 for every $100 redeemed and this offer does not apply to Canadian Tire Gas+ Bars or any online purchases.
You can visit any Canadian Tire store more than once and as long as you have e-Canadian Tire 'Money' to redeem, you can collect the 20X bonus but you cannot redeem for gift cards and some select items, so plan ahead!  Hopefully we will have an early sneak peek of the flyer for you well before the sale as Tioma often posts the Quebec version of Canadian Tire on Sunday nights.