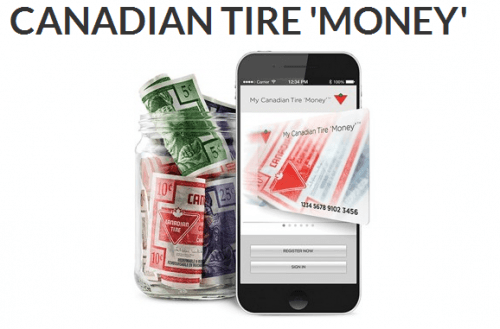 We mentioned a few weeks back that Canadian Tire had started to roll out a digital system for Canadian Tire money, starting with Nova Scotia.  Tomorrow, the program rolls out to all provinces.
While you can still collect paper Canadian Tire money if you pay by cash or debit, the My Canadian Tire Money program has some great advantages
Collect e-Canadian Tire 'Money' on automotive services.
Personalized offers sent right to your Canadian Tire App and online account.
Collect 10X e-Canadian Tire 'Money' every day when you pay with a Canadian Tire Options MasterCard at Canadian Tire stores.
Collect e-Canadian Tire 'Money' at participating Canadian Tire gas bar locations.
Collect e-Canadian Tire 'Money' when using other credit cards, not just cash, debit and Canadian Tire branded credit cards at Canadian Tire stores.
Easier returns with no paper receipt.
Plus the money never expires and is much harder to lose than the paper money.  I love that I can now use my regular credit card and earn Canadian Tire money and points on my credit card too.
You don't need to have a smartphone either, you can sign up online with a physical card that you pick up in-store starting tomorrow.