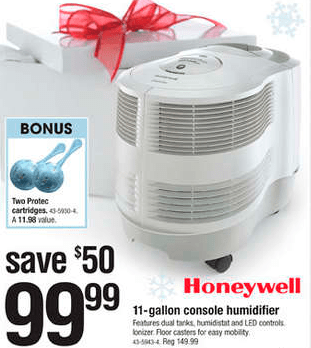 With winter knocking on all of our doors, the air is getting dryer.  Depending on who you are that can wreak havoc on your skin or your breathing.  Even if you're not too succeptable to such problems getting the moisture back in the air gives your home a more comfortable feel overall.  That's why a deal on a humidifier so early in the year is such a good idea!
Normally $149.99, this Honeywell humidifier is on sale for $99.99 — a savings of $50!  I have a Honeywell myself (not the one pictured above) and I couldn't be happier.  It's quiet, it's easy to refill, and it does the  job really quickly.
Sale ends this Friday, November 7th.  You can order online here.