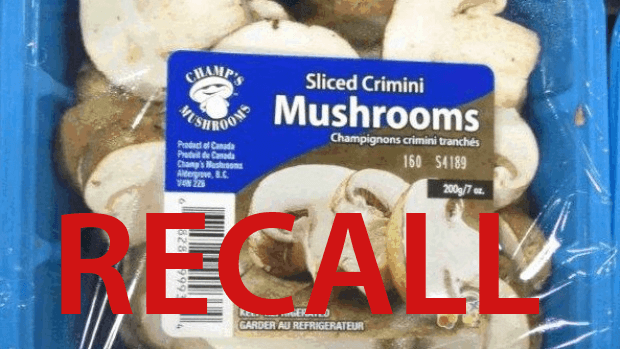 The Canadian Food Inspection Agency has recently issued a recall on sliced mushrooms sold by President's Choice and Champs due to possible Listeria monocytogenes contamination. The contaminated products are mainly sold in British Columbia, but may also have been sold in Alberta, Saskatchewan, Manitoba and other provinces.
The recall is on the following products:
Champ's Mushrooms Sliced Crimini Mushrooms, 200 grams.
Champ's Mushrooms Sliced Crimini Mushrooms, 227 grams.
Champ's Mushrooms Sliced Mini Bella Mushrooms 680 grams.
President's Choice Cremini Sliced Mushrooms, 454 grams.
If you have the products in question in your home, you are advised to throw them out, or to return them to the store in which you purchased them. Food contaminated with Listeria monocytogenes may not look or smell spoiled but can still make you sick. Symptoms can include vomiting, nausea, persistent fever, muscle aches, severe headache and neck stiffness. Pregnant women and the elderly are particularly at risk. Although infected pregnant women may experience only mild, flu-like symptoms, the infection can lead to premature delivery, infection of the newborn or even stillbirth. In severe cases of illness, people may die.
The CFIA is conducting a food safety investigation at this time, so this recall could be expanded. They are also verifying that the prodcut is removed from the marketplace. So far no illnesses have been reported.
Click here to read more about this recall