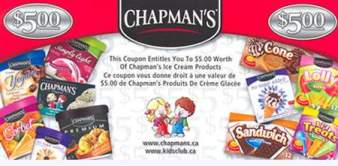 Yippy thanks so much MissScrooge for letting us know that Chapmans has brought back their $5.00 coupon as one of the prizes on their site!
To receive this coupon you need to first join Chapmans site (see link below) and then play games until you hit 6000 points. Really its pretty easy to get the 6000 points, but sadly Chapmans limits you to 750 points a day – so it will take a few days of playing before you can redeem for the coupon. You are allowed two coupons per year, and anyone can join – young or old!
Click here to join and start playing.