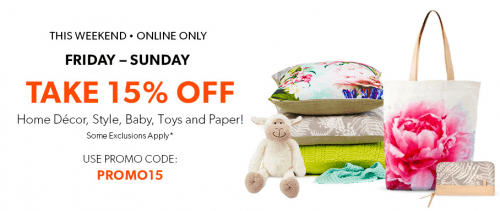 Chapters Indigo Canada is having a take-off weekend promo code, where you will be able to, as the title suggests, take-off an extra 15% off on regular priced home decor, style, baby, toys and paper. To receive this extra 15% off you will first have to enter the promo code, PROMO15, at the checkout and also ensure that you have selected a product from a qualifying department.

The only exclusions to this offer will be on the following brands and products from the specified department:
books
sale items
all electronics and accessories (including Apple, video games and Kobo)
LEGO products
all Kate Spade New York products
American Girl products
Rosetta Stone products
Music, DVDs, and Used Books
Love of Reading Donations and gift cards
Within the baby section at Chapters Indigo, they are currently running a promotion where when you buy 2 Skip Hop bags at regular price, you will receive your second bag for 25% off. While that is a good offer for people who need 2 diaper bags, if you really only need one then you can also use your 15% off promo code to when you buy one this weekend. For instance, if you were to use the PROMO15 code on the Duo Essentials Wave Dot diaper bag by Skip Hop, regularly $70, then you would only have to pay $59.50. If you were to use the 25% off discount on a second diaper bag of equal value, then it would only reduce the cost of each bag to being $61.50.
Chapters Indigo begins offering this 15% off weekend offer on Friday, April 10th and it will expire on Sunday, April 12th.
Chapters offers free-shipipng on all orders that are $25 or more.
Click here to begin shopping online at Chapters Indigo Canada.