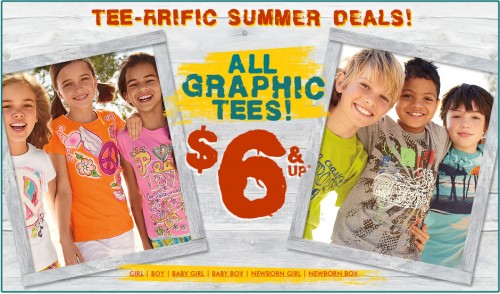 So excited to do some online shopping!  Right now you can save at Children's Place with their new sales and coupon codes.  They have graphic tees starting at $6 and have reduced their clearance section by another 40% .  To make these deals even sweeter, you can also save with their new "the more you spend, the more you save" coupon codes!  Here's the break down:
Discount: 25% off $50 or more with coupon code 2D9D2011
Discount: 20% off $40 or more with coupon code 2E9D2011
Discount: 15% off with coupon code 2F9D2011
These coupon codes are good until May 29.  I tried applying the coupon codes with clearance stuff and they worked!  Some super money savers.  Also, they have $8 flat rate shipping so not too bad, even better if you can split shipping cost with a friend or two that also wants to take advantage of this sale!
Click here to shop at The Children's Place.