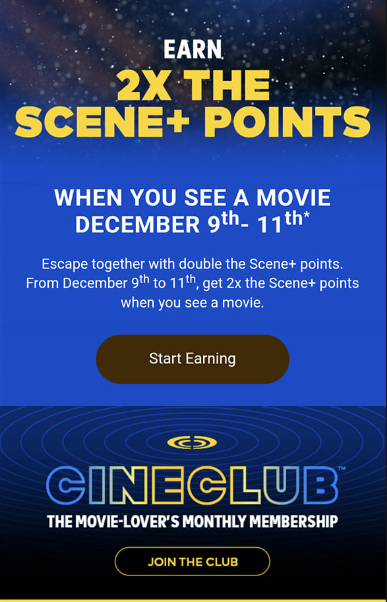 Cineplex Canada is offering 2x the Scene+ Points when you see any movie from December the 9th to the 11th. If you have any codes to use before the end of December from various promos throughout the year, this would be a great time to use them as you still earn Scene+ Points when you use these. You also don't pay booking fees online when you are redeeming free admission codes.
Also, don't forget about the promotion that is still on for purchasing Cineplex gift cards. Spend $50 more and you will receive over $60 in movie extras, including one free General Admission, two free Regular Popcorn, 50% off Poutine or Nachos, a Buy One Get One Free General Admission, and more. You can purchase a physical gift card and gift bundle delivered by mail, or you can purchase an eGift card and eGift bundle sent by email.
Click here for show times for this weekend and earn 2x the Scene+ Points when you see a movie.