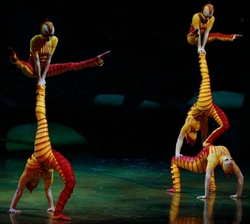 "Insects teeming with life who work, eat, crawl, flutter, play, fight and look for love in a non-stop riot of energy and movement make up the universe of "Ovo." This production is a blend of astonishing acrobatics, awe-inspiring contortionists, spectacular sets and eccentric characters."
Travel Zoo posted a good deal for Cirque Do Soleil "Ovo" in Toronto. Category 2 & 3 tickets are 25% off, with seats starting at $48.75. If you missed the September deal, here is another opportunity to snatch some up!
The following tickets are available for all performances through Nov. 8, 2009:
Category 3 seats … $48.75 (reg. $65)
Category 2 seats … $67.50 (reg. $90)
Category 1 seats … $85 (reg. $100)
Please note that Category 1 seats are 15% off regular pricing.
To book your tickets, click here.
Thanks to save_girl for sharing this deal with us!