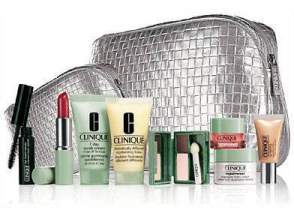 YOUR BEAUTY IS PRICELESS, OUR BONUS IS FREE.

With your purchase of $35 or more, take home this stylish 11 piece Clinique bonus gift. Along with the silver basket weave cosmetic clutch and matching mini bag, you will enjoy Dramatically Different Moisturizing Lotion, 30ml,
7 Day Scrub Cream Rinse-Off Formula, 30ml, and Repairwear Intense Night Cream, 15ml. Treat yourself with All About Eyes Rich, 5ml, and Up-lighting Liquid Illuminator in Natural, 7ml. You'll also receive Colour Surge Eye Shadow Duo in Mochaberry, 1.2g, High Impact Mascara in Black, 4g, and Long Last Lipstick in All Heart, 4g. Your bonus extra is a 12
month subscription of ELLE Canada for $6 – that's like getting 10 months for free, compliments of Clinique.
Gift available from now until October 28, 2007.*
* One bonus per customer
please, while supplies last.