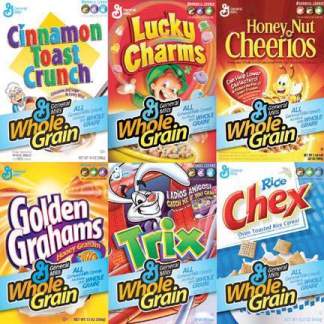 Thanks bcteagirl for letting me know about this deal 🙂
Specially marked general mills cereals now have a coupon in them for a free yogurt. The sign at the store pictured Yoplait 6 cup set, minigo, yoplait tubes and one larger tub of yogurt. In store all they had so far were two types of cereal (A chocolate one and lucky charms). On those boxes they indicated teh coupons were for minigo or Yogurt tubes. This leads me to the assumption that the more 'grown up' cereals will have the other coupons on them?

It is also important to know that these cereals are 2.50 off at Save on foods right now.. since they are general mills, you can get an additional 1$ off with coupon.
If this deal is exactly like last time then here are some more details:
Free 2 litre white milk coupon inside:

Regular Cheerios (575g)
Reese Puffs (400g)

Free 1 litre white or chocolate milk coupon inside:

Oatmeal Crisp (475g – 525g)
Lucky Charms (400g)
Nesquick (400g)

Regular variety milk only. Offer not valid on premium varieties of milk including Omega 3, Calcium and/or Protein enriched, Lacteeze, Lactaid, Lactose free and Filtered milks. Offer void where prohibited. Offer not valid in Quebec or Nova Scotia.