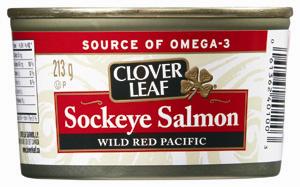 Clover Leaf just sent me this great email to grab up some coupons for their products.  It's a tad confusing of what you have to do to receive your coupons, heres the instructions:
1.  Click the search and save button to view 5 of the 40 recipes
2.  View your first take 5 recipe by clicking on the recipe of your choice
3.  Click on the recipe counter pop-up to search and select a new recipe each time
4.  After viewing the 5th recipe click on the "Click here to get your coupons recipe counter"
5.  Enter your mailing address to receive your coupons in the mail.
Once you have followed these steps you will get this confirmation:  Please provide your name and mailing address below to receive your Clover Leaf coupons in the mail. Your coupons will arrive in 10 – 15 business days.  You will receive an email confirmation to your email address. To ensure delivery, add [email protected] to your address book. Check your spam folder if email from us is not delivered to your inbox.
They also are offering a bonus if you refer a friend and they sign up that they will send you a *bonus* coupon.  They didn't say what but now i'm intrigued.