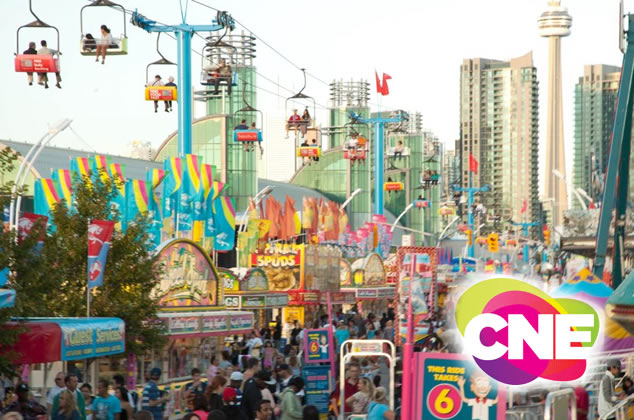 The Canadian National Exhibition is scheduled to kick off in Toronto on August 21, 2015 and there are some great deals on admission and ride passes that you can take advantage of in order to save on a fun filled day for the whole family!
Available deals include:
Advanced ticket deals (available online or at select retailers)

$14 for advanced admission purchase (must purchase before August 20, 2015)
$38 ride all day pass– includes admission and unlimited midway rides (must purchase before August 20, 2015)

Available On-Site at CNE only

$8 admission opening day- purchase at CNE gate (valid on August 21, 2015 only).
$20 for 8 rides -purchase at CNE ride booths. Admission extra (valid August 21 and September 1 only).
$6 admission after 5pm– valid Mondays (except Labour Day) Tuesdays Wednesdays and Thursdays.
$2 admission for children under 13 w/ adult admission- Add 30 coupons for $22 (Valid August 24 and August 31 only).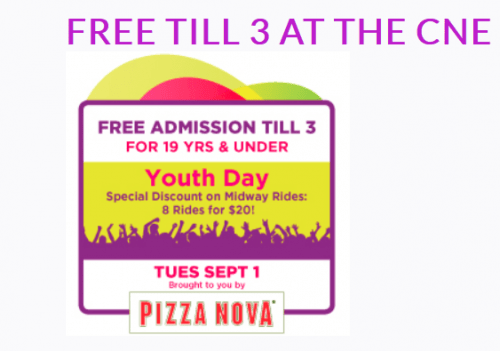 If you're looking to take your kids to the CNE to enjoy some last minute fun before school starts, you'll want to check out Youth Day at the CNE! On Tuesday September 1, 2015, kids 19 years and under can enjoy free admission between 10am and 3pm! Not only that, but kids can get a special discount on midway rides and buy 8 rides for $20! Kids will need to enter the CNE before 3pm to get free admission, however once inside you can stay as long as you'd like.
There are also special shows and activities targets for kids on Youth Day including:
acrobatic and ice skating show featuring Scott Moir and Tessa Virtue at 2pm and 5pm
Super Dogs Show
Cody Simpson Concert at 7:30pm
2 shows by Patricia Muzzo, culinary expert and author of Mood Foodie Teen Guide
XPogo Stunt Teams and Rush: Parkour Demonstrations
This Youth Day  offer is on September 1, 2015 only. Free admission is for kids 19 years and under only. Older teens may need proof of age to gain their free admission. Admission to the CNE is already free every day for kids under 4 years.
Click here to see all deals for the Canadian National Exhibition,
Or click here to learn more about Youth Day at the CNE