Congratulations on the birth of your baby girl!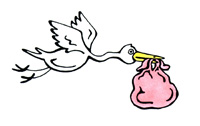 This new little Baby Girl so tiny small and neat
And especially magic makes your family complete
No words could ever relay or truly express
The wishes sent for you at this time of happiness
She′s shining an Angel with a tiny sweet nose
So completely made up ten fingers, ten toes
She′s laughter and teardrops so small and brand new
And amazingly angelic and she′s sent to bless you
She′s one special Baby the best of life′s treasure
And she′ll surely bless you loving family pleasure.
Here's what Jim had to say on his blog:
Lot's of new baby photos on my wife's flickr if you're into that sort of thing.

EDIT: We've actually decided against Virginia. She's had the name for two days and it just didn't seem to fit. Plus, people are already giving her annoying nicknames that we don't approve of like "Ginny." The official name (we've already written it on the Health Card app, so there's no going back now) is Emily Jennifer Jane.