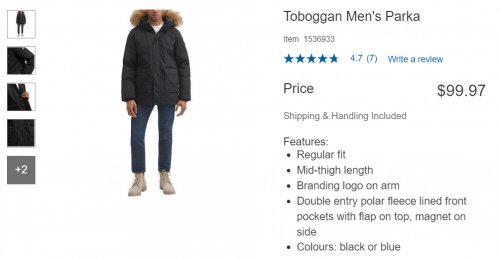 This Toboggan men's parka is currently on clearance at Costco.ca for $99.97 Not all sizes are available so you'll have to check to see what's in stock. The parka features a regular fit mid-thigh length, and a branding logo on the arm. It also has double entry polar fleece lined front pockets with a flap on top, and magnets on the side. Two colours are available and you have your choice of black or blue.
This item ships free from Costco.ca and has an estimated delivery date of December the 28th. This parka was also recently available in warehouses for $150. If you happen to have purchased it recently you can head back and see if you can get a price adjustment on this item. Just keep in mind that the item still has to be in stock at the warehouse that you visit in order to get the adjustment.
Click here to get the Toboggan men's parka from Costco.ca.