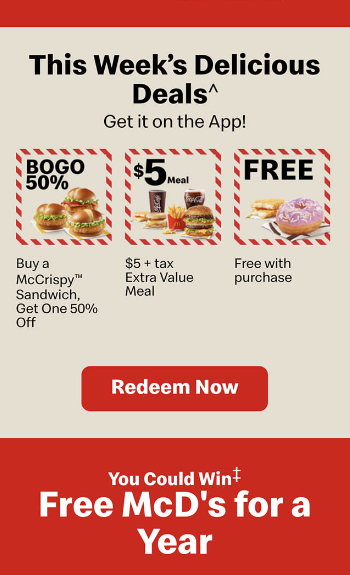 McDonald's has dropped some new December offers in their app, and there are the offer that are available for the next 6 days:
Buy a McCrispy Sandwich and get one 50% off
$5 Extra Value Meal (choose from Egg McMuffin, Bacon 'N Egg McMuffin, Sausage 'N Egg McMuffin, Egg BLT McMuffin, Big Mac, McDouble, or 6-Piece Chicken McNuggets)
Get a free Hash Brown or Li'L Donut with a food or beverage purchase ($1 minimum purchase required before taxes)
Don't forget to enter to win the McNugget Stocking Set, which looks…errrrr…interesting?
Another deal you will find in your app is for free Medium Fries with a purchase, as the Raptors scored 12 or more 3-pointers in last night's game. This offer is valid until 4am on December the 20th for Ontario only, with a minimum $1 purchase before taxes.
Click here to get the McDonald's Canada app.