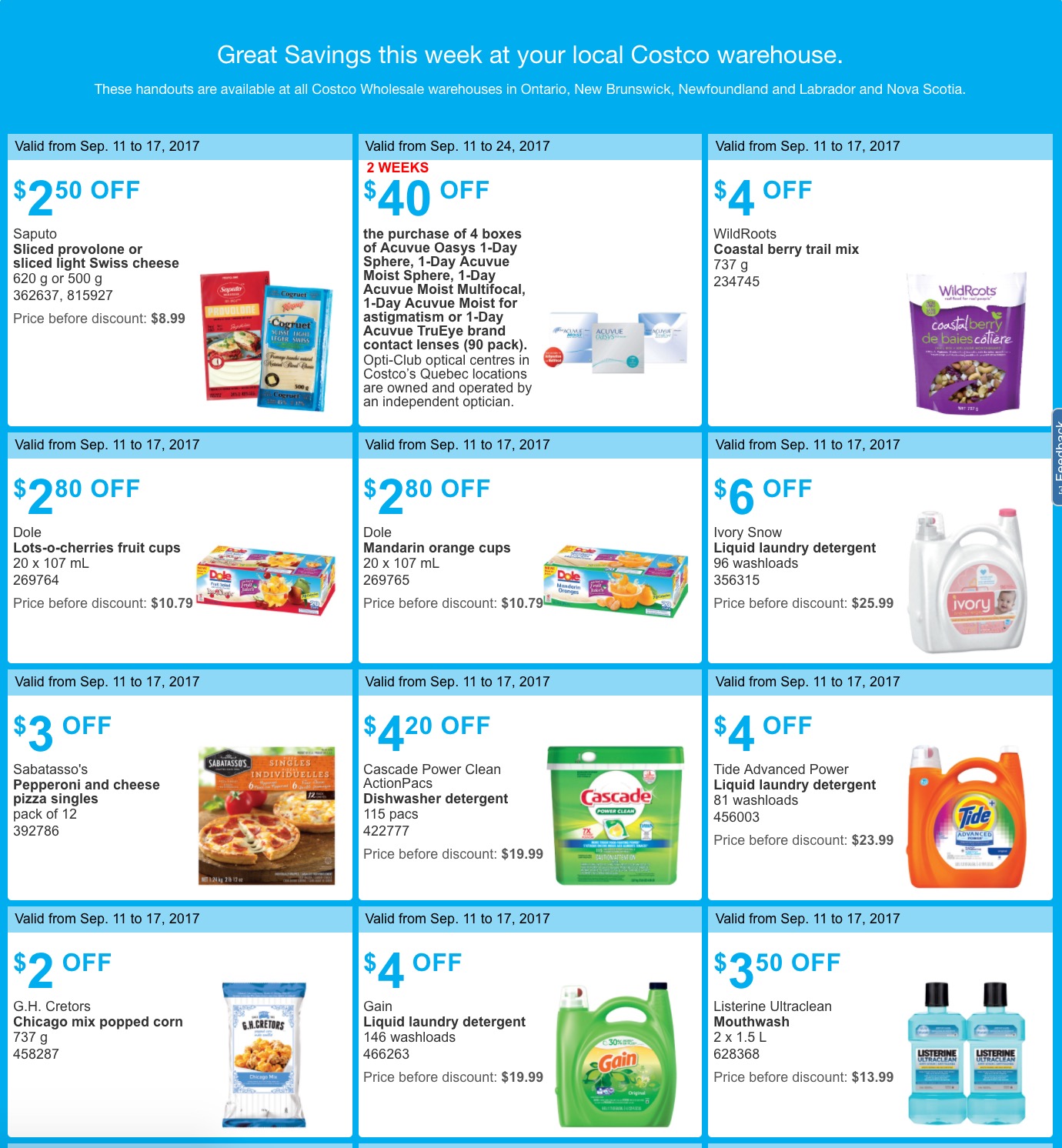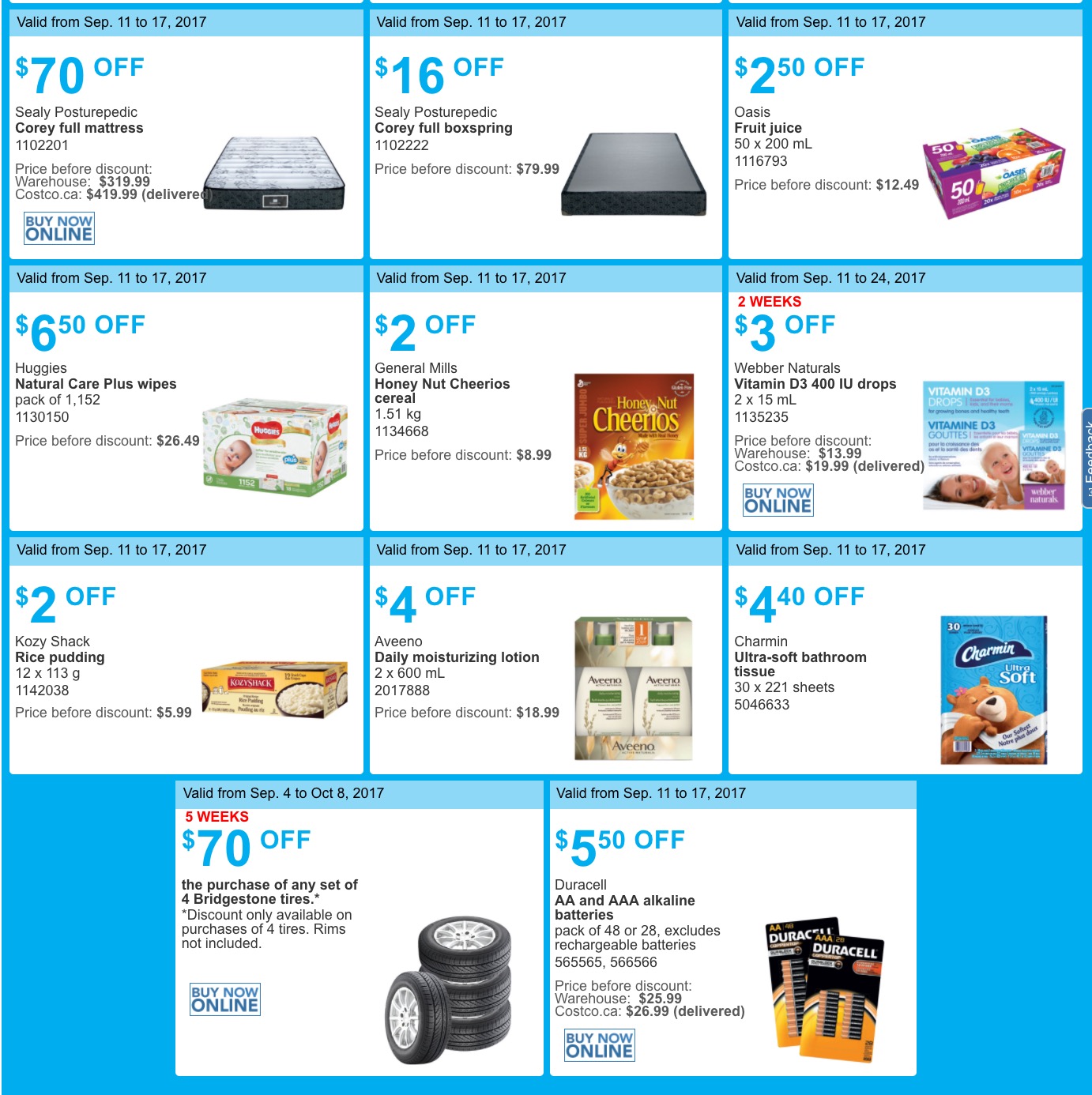 Costco Canada has now released the new eastern weekly instant discount handouts! These handouts are available at all Costco Wholesale warehouses in Ontario, New Brunswick, Newfoundland & Labrador and Nova Scotia.
These Costco Canada eastern instant flyers are valid from today, Monday, September 11, 2017 until Sunday, September 17, 2017, some of these coupons are valid until Sunday, October 8, 2017. Only Costco members in good standing may use these instant savings handouts and Costco discount will be automatically added when you purchase any of these items.
The new Costco Canada instant weekly savings handouts for Ontario, New Brunswick, Newfoundland and Labrador and Nova Scotia provinces include:
$2.50 OFF Saputo Sliced provolone or sliced light Swiss cheese 620 g or 500 g
$40 OFF the purchase of 4 boxes of Acuvue Oasys 1-Day Sphere, 1-Day Acuvue Moist Sphere, 1-Day Acuvue Moist Multifocal, 1-Day Acuvue Moist for astigmatism or 1-Day Acuvue TruEye brand contact lenses (90 pack).
$4 OFF WildRoots Coastal berry trail mix 737 g
$2.80 OFF Dole Lots-o-cherries fruit cups 20 x 107 mL
$2.80 OFF Dole Mandarin orange cups 20 x 107 mL
$6 OFF Ivory Snow Liquid laundry detergent 96 washloads
$3 OFF Sabatasso's Pepperoni and cheese pizza singles pack of 12
$4.20 OFF Cascade Power Clean ActionPacs Dishwasher detergent 115 pacs
$4 OFF Tide Advanced Power Liquid laundry detergent 81 washloads
$2 OFF G.H. Cretors Chicago mix popped corn 737 g
$4 OFF Gain Liquid laundry detergent 146 washloads
$3.50 OFF Listerine Ultraclean Mouthwash 2 x 1.5 L
$70 OFF Sealy Posturepedic Corey full mattress
$16 OFF Sealy Posturepedic Corey full boxspring
$2.50 OFF Oasis Fruit juice
$6.50 OFF Huggies Natural Care Plus wipes pack of 1,152
$2 OFF General Mills Honey Nut Cheerios cereal 1.51 kg
$3 OFF Webber Naturals Vitamin D3 400 IU drops 2 x 15 mL
$2 OFF Kozy Shack Rice pudding 12 x 113 g
$4 OFF Aveeno Daily moisturizing lotion 2 x 600 mL
$440 OFF Charmin Ultra-soft bathroom tissue 30 x 221 sheets
$70 OFF the purchase of any set of 4 Bridgestone tires. Discount only available on purchases of 4 tires. Rims not included.
$5.50 OFF Duracell AA and AAA alkaline batteries pack of 48 or 28, excludes rechargeable batteries
Click here to view all Costco Canada instant weekly handouts fly­ers.