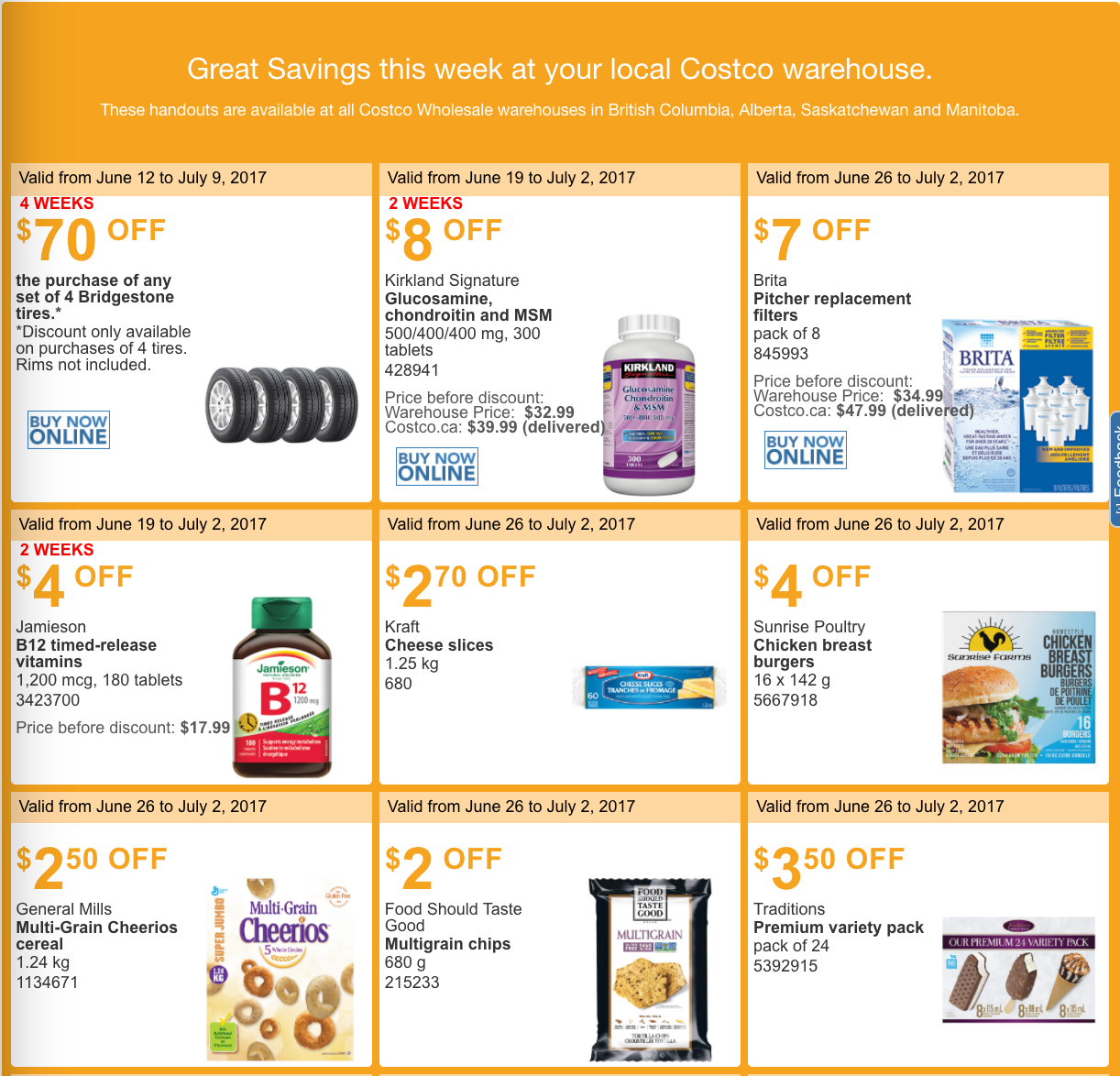 Costco Canada has now released the new western weekly instant discount handouts! These handouts are available at all Costco Wholesale warehouses in British Columbia, Alberta, Saskatchewan and Manitoba. Only Costco Canada members may use these instant savings handouts. These new Costco Canada instant savings handouts for British Columbia, Alberta, Saskatchewan and Manitoba are valid from today, Monday, June 26, 2017 until Sunday, July 2, 2017, some of these coupons are valid until Sunday, July 9, 2017, and include:
$70 OFF the purchase of any set of 4 Bridgestone tires. Discount only available on purchases of 4 tires. Rims not included.
$8 OFF Kirkland Signature Glucosamine, chondroitin and MSM 500/400/400 mg, 300 tablets
$7 OFF Brita Pitcher replacement filters pack of 8
$4 OFF Jamieson B12 timed-release vitamins 1,200 mcg, 180 tablets
$2.70 OFF Kraft Cheese slices 1.25 kg
$4 OFF Sunrise Poultry Chicken breast burgers 16 x 142 g
$2.50 OFF General Mills Multi-Grain Cheerios cereal 1.24 kg
$2 OFF Food Should Taste Good Multigrain chips 680 g
$3.50 OFF Traditions Premium variety pack pack of 24
$4 OFF Tide Purclean liquid laundry detergent 80 washloads
$5 OFF Pinty's Salt and pepper chicken wings 2 kg
$4 OFF Gatorade or G2 Sport drink 28 x 591 mL
Click here to view all Costco Canada instant weekly handouts fly­ers.