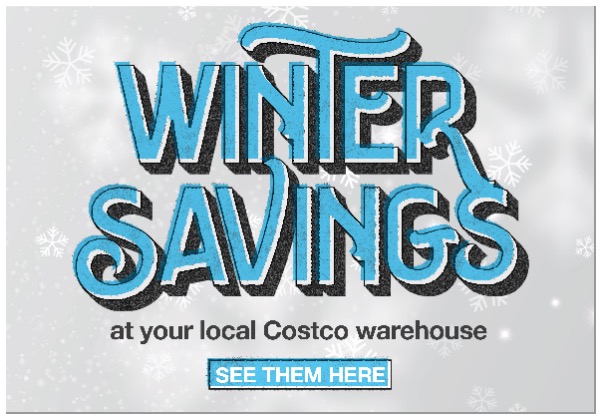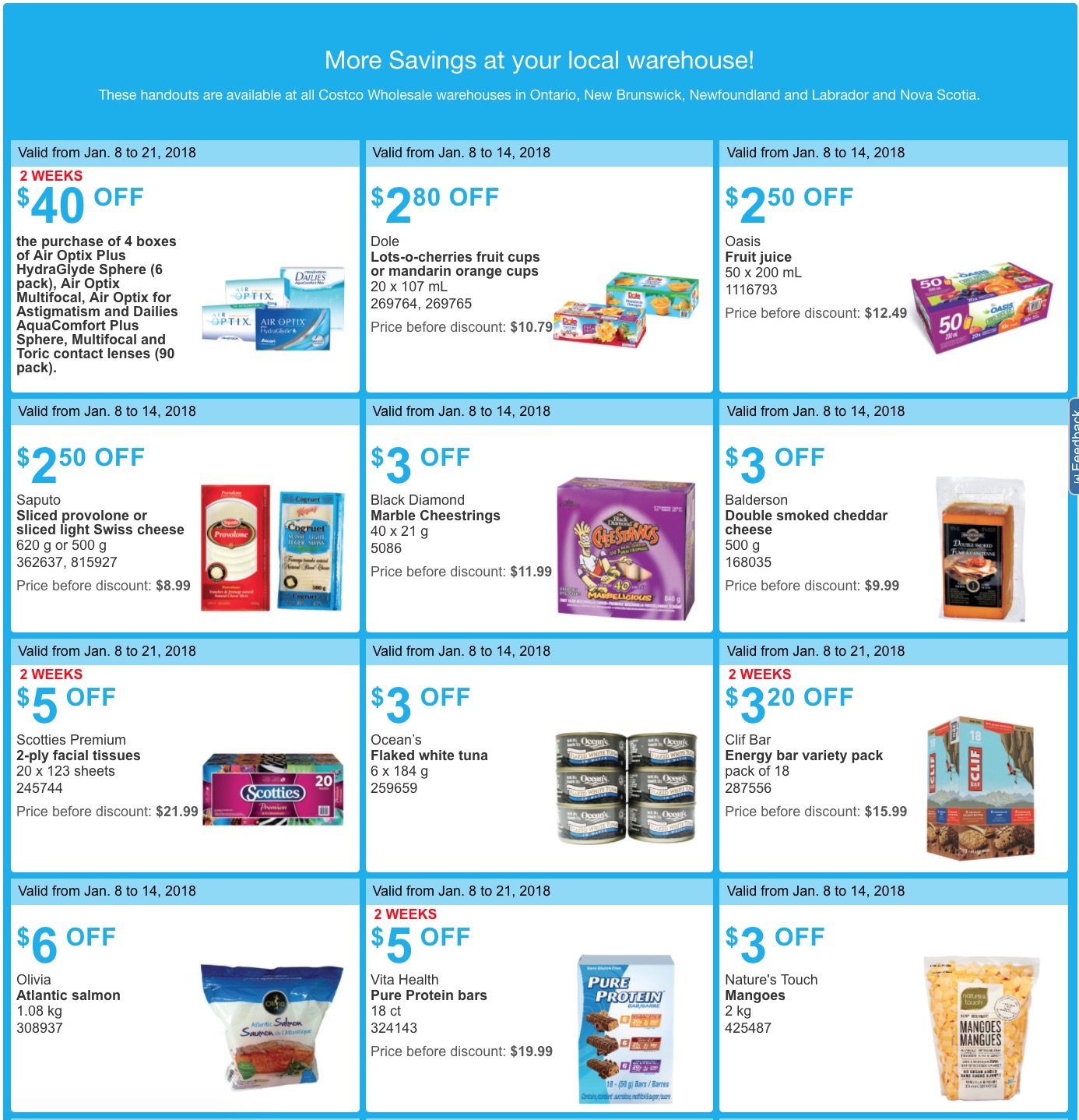 Costco Canada has now released the new eastern weekly instant discount handouts! These handouts are available at all Costco Wholesale warehouses in Ontario, New Brunswick, Newfoundland & Labrador and Nova Scotia.
These Costco Canada eastern instant flyers are valid from, January 8, 2018 until, January 14, 2018. Some of the deals are valid until January 21, 2018. Only Costco members in good standing may use these instant savings handouts and Costco discount will be automatically added when you purchase any of these items.
The new Costco Canada instant weekly savings handouts for Ontario, New Brunswick, Newfoundland and Labrador and Nova Scotia provinces include:
$40 OFF the purchase of 4 boxes of Air Optix Plus HydraGlyde Sphere (6 pack), Air Optix Multifocal, Air Optix for Astigmatism and Dailies AquaComfort Plus Sphere, Multifocal and Toric contact lenses (90 pack).
$2.80 OFF Dole Lots-o-cherries fruit cups or mandarin orange cups 20 x 107 mL
$2.50 OFF Oasis Fruit juice 50 x 200 mL
$2.50 OFF Saputo Sliced provolone or sliced light Swiss cheese 620 g or 500 g
$3 OFF Black Diamond Marble Cheestrings 40 x 21 g
$3 OFF Balderson Double smoked cheddar cheese 500 g
$5 OFF Scotties Premium 2-ply facial tissues 20 x 123 sheets
$3 OFF Ocean's Flaked white tuna 6 x 184 g
$3.20 OFF Clif Bar Energy bar variety pack pack of 18
$6 OFF Olivia Atlantic salmon 1.08 kg
$5 OFF Vita Health Pure Protein bars 18 ct
$3 OFF Nature's Touch Mangoes 2 kg
$1.20 OFF Iögo 0% yogurt 24 x 100 g
$5 OFF Taste of Nature Organic bars pack of 18
$6 OFF Whiskas Dry cat food 11.6 kg
$6 OFF Cesar Wet dog food 36 x 100 g
$5 OFF Pedigree DentaStix dog treats pack of 45
$7.50 OFF Pedigree Vitality Plus dog food 22.7 kg
$3.20 OFF Ziploc Sandwich bags 4 x 150 bags
$3 OFF Ziploc Medium freezer bags 3 x 50 bags
$3 OFF Ziploc Large freezer bags 3 x 40 bags
$11 OFF Kaizen Naturals Whey isolate protein chocolate or vanilla, 2 kg
$7 OFF Metamucil Fibre therapy 1.32 kg powder (228 teaspoons) or 300 capsules
$25 OFF Seville Classics Chrome 6-tier shelving
$3 OFF Jamieson Vitamin D 1000 IU 750 capsules
$6 OFF Webber Naturals Glucosamine and chondroitin with vitamin D 500/400 mg, 300 capsules
Click here to view all Costco Canada instant weekly handouts fly­ers.