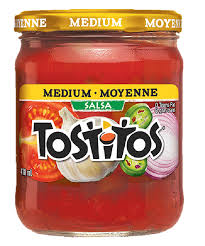 Here is an amazing deal that you can take advantage of provided you have the right coupon, and the ability to price match Canada wide at Walmart. Beginning March the 6th, Metro Ontario has Tostitos Salsa on sale for just $2.49. Super C has a dozen eggs on sale for just $1.44. Recently, you may have seen a coupon for $3 off when you purchase 3 participating products, including eggs and Tostitos salsa. Price match the eggs and the salsa at Walmart Canada, use your coupon, and pay only $3.42 for one dozen eggs and two jars of salsa. That is only $1.14 per product!
If you do have this coupon take a close look as there are different versions. If you found your coupon at a Loblaws umbrella store, then there is a good chance that you have the version that is valid ONLY at Loblaws umbrella stores. There is a version of the coupon that has no restriction with regard to where it can be used, so double check that this is the version you have.
Even if you cannot price match Canada wide at Walmart, but live in Quebec, you can still use your coupon for $1 off the purchase of two dozen eggs from WebSaver.ca, and get the eggs for just 94 cents each!
Click here to view the Metro Ontario flyer.