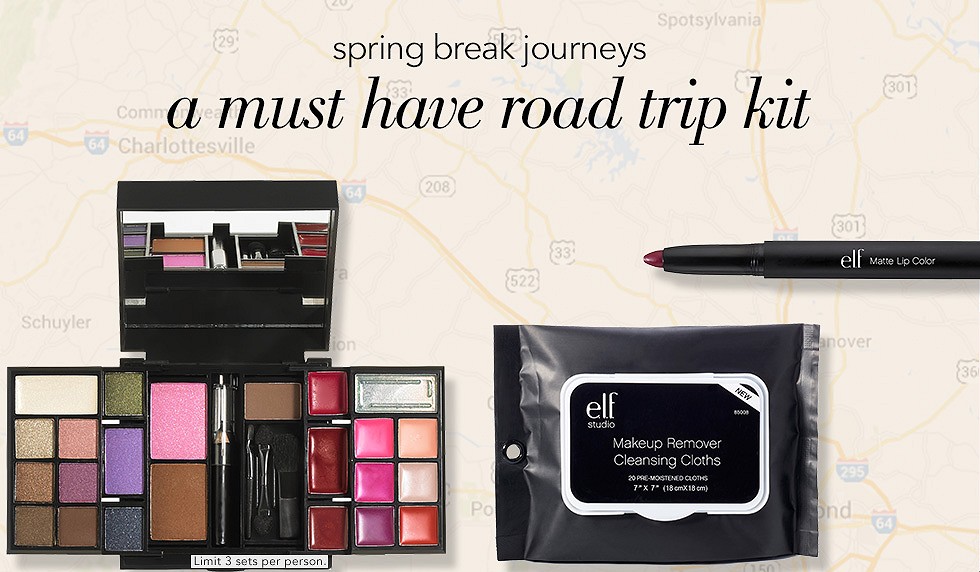 This Road Trip Kit from e.l.f. Cosmetics Canada, a set that is normally sold for $21, can be purchased right now for just $5 when you spend a minimum of $25 and enter in the promo code, ROADTRIP, at the checkout. Technically then you will have to spend a total of $30 to receive the Road Trip Kit, but you will be saving yourself $16 since the kit normally sells for $21.
The Road Trip Kit from e.l.f. Cosmetics is already pretty extensive, as it will include a Studio 27 Piece Mini Makeup Collection, which alone contains everything you would need while travelling (such as eyeshadow, bronzer, blush, lipgloss, eyeliner, brushes and more). The set will also contain a Studio Matte Lip Color in Wine and a package of Studio Makeup Remover Cleansing Cloths.
This offer from e.l.f. Cosmetics will only be valid until March 9th at 11:59pm PST and you cannot combine it with any other offer going on online.
e.l.f. Cosmetics does not offer free-shipping to Canada, but will instead reduce the shipping fee by $4.95 from your $14.95 original shipping fee if you spend over $35.
Click here to get  e.l.f. Cosmetics Canada online.