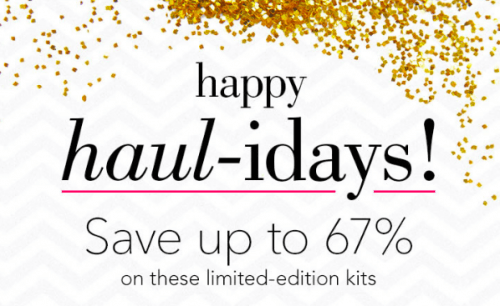 e.l.f. Cosmetics is not only making your holiday shopping cheaper this year, but they are also taking all of the hassle out of it by packaging up these great beauty 'hauls' of makeup kits for up to 67% off their original price! These kits will only be offered until the end of the day, closing at 11:59pm EST, so you only have 13 more hours to take advantage of it.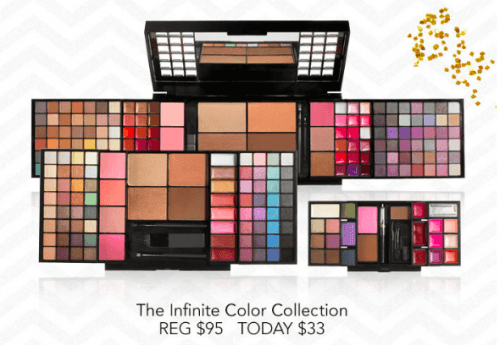 The first kit in this e.l.f. Cosmetics sale is this infinite colour collection, which features more than 250 makeup pieces to choose from within the 3 different palettes, including:
141-Piece Master Makeup Collection
83-Piece Essential Makeup Collection
27-Piece Essential Makeup Collection
The cost of this set is usually $95, but for today only you can get it for $33!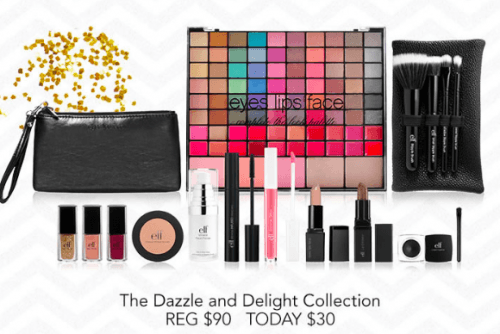 The second set available from e.l.f. Cosmetics in their beauty haul sale is the Dazzle and Delight Collection, regularly sold for $90 but today will be offered at $30; a third of the regular price. This set features a wide array of make up palettes, plus a black wristlet:
Studio 85-Piece Complete the Look Palette – Limited Edition,
Studio Stipple Brush Travel Set
Mineral Infused Face Primer in Clear
Mineral Lipstick in Natural Nymph
Pressed Mineral Bronzer in Baked Peach
Essential 3 Piece Nail Polish Set in Glam Bam
Studio Lip Exfoliator
Studio Cream Eyeliner in Black
Essential Shimmer Gloss-Inspire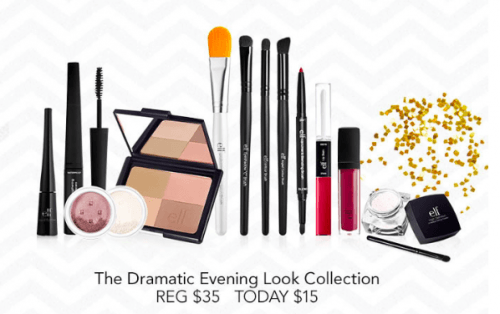 This collection, the dramatic evening collection, only $15 (was $35), includes some of my favourite e.l.f. products:
Essential Foundation Brush, Studio Contour Brush, Studio Eyeshadow "C" Brush, Studio Angled Contour Brush
Mineral Eyeshadow in Innocent and Glamorous
Essential Liquid Eyeliner in Black
Studio Waterproof Lengthening & Volumizing Mascara in Black
Studio Bronzer in Warm
Studio HD Undereye Setting Powder
Studio Lip Liner Blending Brush in Red
Studio Lip Stain in Red Carpet
Studio Glossy Gloss in Funky Fuchsia
The best sellers kit is also only $15 (regularly $25) and, like the title suggests, includes e.l.f. cosmetic's best-seller:
Studio Mineral Infused Face Primer – Clear
Studio High Definition Powder – Sheer
Studio Lip Exfoliator
Studio Makeup Mist & Set
Studio Makeup Remover Cleansing Cloths
Mineral Eyeshadow Primer – Sheer
Essential Wet Gloss Lash & Brow Clear Mascara
And last, but certainly not least, though it does cost the least of the available 5 kits, is the fresh face kit which is only $13 (regularly $21) which includes:
Studio Mineral Infused Face Primer – Clear
Studio Flawless Finish Foundation – Porcelain/Buff/Coco
Studio Maximum Coverage Concealer – Porcelain/Nude/Almond
Studio High Definition Powder – Sheer
Theses are all amazing sets, and remember that e.l.f. Cosmetics offers free-shipping on all orders that exceed $35; which none of these kits alone would meet, but why not stack a couple? Since their so cheap, you could afford to get one for yourself and a friend!
Click here to shop the 67% off haul kits from e.l.f. Cosmetics.