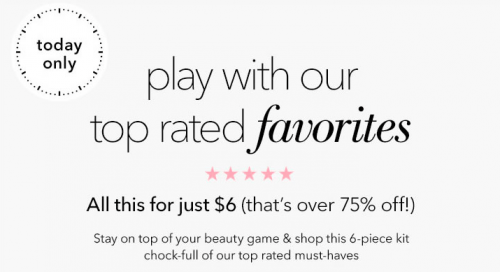 Yesterday we alerted you to a hot deal from e.l.f. Cosmetics Canada where you can pick some of their favourite makeup must-haves for 50% off when you spend $25 or more online, and today we have an even better deal that will save you 75% off on top-rated favourites that can actually be combined with the previous offer.
Until the end of the day, at 11:59pm PST, you can pick up this top-rated 6-piece makeup kit for just $6, though it is valued to be worth $26. All you have to do is add $25 worth of qualifying product and then add the top-rated kit to your cart and enter the promo code, TOPRATED, at the checkout to have your kit discounted by $20.
Included in this top-rated kit from e.l.f. Cosmetics will be:
Studio Prism Eyeshadow in Naked
Studio Pressed Mineral Blush in Cabo Cabana
Studio Hydrating Under Eye Primer
Studio Lash Extending Mascara
Studio Lip Lock Pencil
and Essential Lip Balm Tint in Rosy Rocker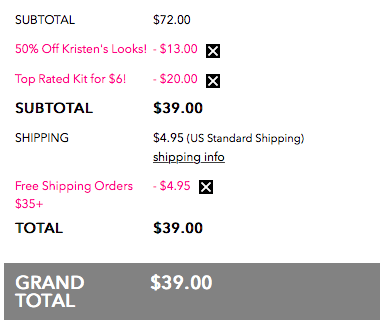 What's great about this offer is that it can be stacked with the Kristen offer from yesterday, where you are able to save 50% off on makeup must-haves when you spend a minimum qualifying fee of $25 and enter the promo code, KRISTEN, at the checkout. By stacking these offers, I was able to get a $72 order of makeup discounted down to being just $39. That's a discount of 45% off the regular price, saving me a total of $33.
The only catch to shopping online at e.l.f. Cosmetics is that the shipping and handling fee for Canadian shoppers if $14.95, and you may be charged taxes and duties upon delivery of your package.
Click here to begin shopping the top-rated 6-piece makeup kit from e.l.f. Cosmetics.