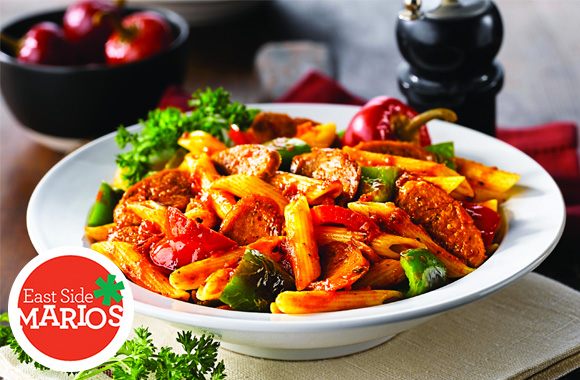 East Side Mario's Canada has released a new set of coupons for the week that will save you money whether you're ordering for delivery or dining-in. All of the coupons that they are offering for this week will expire on Sunday, September 13th.
For the little ones in your household, they can eat for FREE at East Side Mario's when an adult orders an entree that is valued (before taxes and alcohol) to be $13.99 or more. This coupon can only be used Sunday through to Thursday and the free meal will have to be either a Kids Eat Big Meal or, if your child would prefer, they can have the Kids Eat Bigger Meal but it will instead be reduced by $5 instead of being completely free.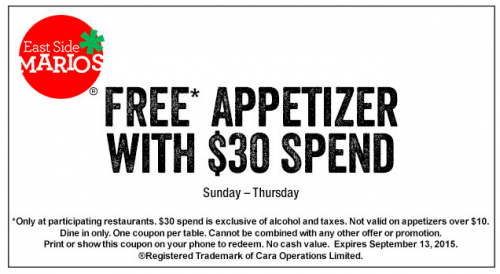 East Side Mario's also has an dine-in coupon that will provide you with a free appetizer when you spend $30 or more (before taxes and alcohol). The appetizer you choose cannot exceed $10, meaning your selection will include all of the following options:
Budda Boomers
Stuffed Mushroom Caps
Feta Bruschetta
Crispy Four Cheese Lasagna Wedges
Mario's Mussels
The last coupon is for online orders only, and you have to spend a minimum of $40 to qualify for it, but you will receive $10 off on your order – meaning you could pay as little as $30! The promo code that you will have to enter is, MARIO10, and this code will also expire on September 13th.
All of the coupons and promo codes will only be permitted to be used once per day and once per table, so you won't be able to stack any of these deals on top of each other.
Click here to print out your coupons from East Side Mario's Canada.