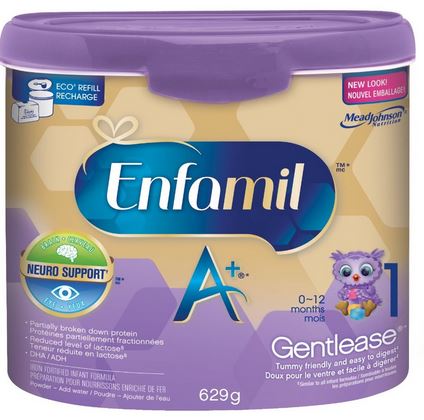 If Enfamil A+ is your preferred brand of formula, then you will be happy to know that there is a new printable coupon available to you, valid on all type of Enfamil A+ formula. Visit Enfamil Canada by following the link below, and you will find a printable coupon for $7 off your next purchase.
Enfamil A+ formula tends to be a touch more expensive than similar brands such as Similac Advance or Nestle Good Start, as if formula is not expensive enough. Those of you using this brand can print this coupon for $7 off when you purchase Enfamil A+, Enfamil A+ Gentlease, Enfamil A+ Thickened, Enfamil A+ Lactose Free, Enfamil A+ Soy, and Enfamil A+ 2 infant formula. This is valid on powder 550g to 992g, concentrate 12x 385ml, and ready to feed 18x237ml.
Don't forget that if you are having a baby, if you sign up for the Enfamil Family Beginnings program, you can obtain higher value coupons and free samples. You are also able to register for this program following the same link below.
Click here to get your printable coupon for $7 off the purchase of Enfamil A+ products.