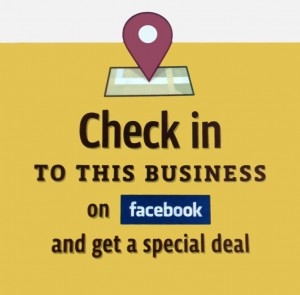 Now you can get more exclusive deals from Facebook in Canada.  To get these deals you'll need a smart touch phone or iPhone and be in the store.  Here's how it works and the current deals available:
To redeem the discount, head to one of participating store. Once you're there, simply log on to your Facebook account using your iPhone or smart touch phone, click on "Check In," and find the name of the store location you're visiting. You'll see a little yellow ticket beside the store's name to show they're offering a deal
Some of the Facebook Deals available at launch:
Chapters.Indigo – 40% off 1 regular-price book or toy(offer ends on Feb 1st)
H&M: 30% off any one regular priced item in the store across Canada.
Dynamite/Garage clothing stores: $10 off your entire purchase at any Dynamite or Garage retail locations across Canada(first 5000 check ins or until Feb 3rd)
Joe Fresh: Pick up $19 men's and women's denim for only $5 at any one of the four stand-alone Joe Fresh retail locations across Canada.(first 500 only)
Wind Mobile: $20/m Infinite Laptop Plan – unlimited Internet surfing and texting in any WIND Zone at any of the 120 Wind Mobile retail locations across Canada.
Telus: An iPhone 3GS for $0 (valid on a 3 year contract) with new account activation at any TELUS store across Canada.
Kiehl's: Ultra Facial Lotion (75 ml) – Free at any one of the 7 Kiehl's stores across Canada.
Town Shoes: Spend $25 at Town Shoes and get a $25 gift voucher at any retail location across Canada.
Toronto Pearson International Airport: Free access to a Plaza Premium Lounge
I'm hoping this catches on and more stores and deals are added.  It's a great way to save some money on the go!  I may just give it a try with the Chapters deal to get a plasma car for my son.
Thanks to couponlady for posting the details about this deal.