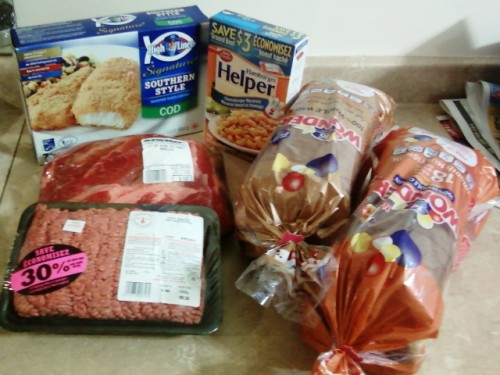 While we all try to reduce our grocery bill, I am sure most of us spend more than we would like to.  $avvy$hopper earns extra money in her spare time on ClixSense which she puts towards her groceries.  There are lots of sites where you can make an extra few dollars a month, through surveys, watching videos, special offers, tasks and more.  We have a thread for the most reliable ones in this SC forum.  Try a few and see what works for you.  I personally make over $25 a month on swagbucks which I cash out for paypal and can use for anything I want.
Click here to read $avvy$hopper's brag where she got all of the food above (and a KitKat for her special little helper) for $13.11 and had cashed out her online earnings for around the same.
Did you know you can get paid if we feature your brag on the blog?  Check out the details here.