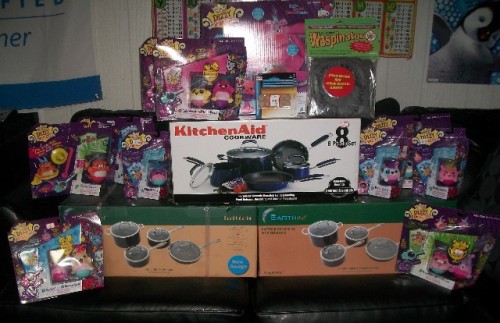 As we say a fond (or not that fond) farewell to Zellers, many SmartCanucks members have been taking advantage of the great store closing deals.
When mine closed there were people fighting over a sweater, items everywhere, people grabbing random stuff, open boxes, stuff missing from packaging etc but if you were willing to take the time and duck when needed, there were some great deals.
Patty Smyth got everything pictured above for just $192.10, a savings of over $900 off the original prices.  The Kitchenaid cookware was just $45!  It usually pays to find out when stores are closing and visit – and to listen to staff for deals.  As Patty found out from an announcement, items were a further 50% of the clearance price but it was not advertised in store, she may not have bought some of the items without the extra 50% off.
Click here to read Patty's full brag.
Did you know you can get paid if we feature your brag on the blog?  Check out the details here.