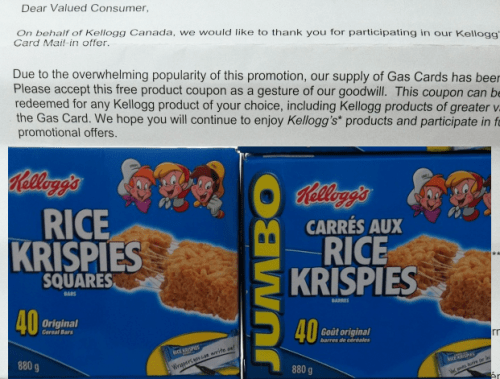 Forum member tccl21 does recycle bin walks.  One of her finds was a cereal box with the $5 Gas Card form still attached.  The promotion must have been very popular this year, as Kellogg's ran out of gas cards and sent tccl21 five coupons for a free product.  She used these to buy five boxes of Rice Krispies Squares which were donated to a local school for snacks.
It is always a good idea to send away for stuff on packaging or even enter contests where you are not the biggest fan of the prize.  The can always be donated and there may be a coupon for participating.  Several companies have tried to 'make good' on running out of prizes with FPCs lately, Mars recently sent me five FPCs instead of a pair of Team Canada mittens when they had a glitch in their contest.
Check out the full details of tccl21's brag here and don't forget, you can enter your brag and get a $5 gift card if it is featured on the blog!