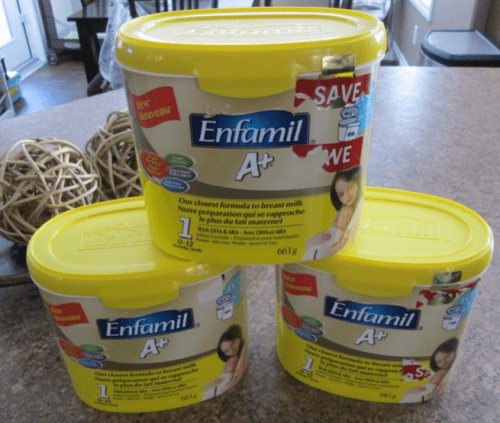 Forum member skmommy regularly checks her local stores for clearance specials.  While stores have different ways of marking these deals, from pink stickers to boxes of random items at the same price or just a surprise at the cash – it pays to check.
These cans of Enfamil A+ are regularly $31.99, but because they expire at the end of April, had $15 worth of Manager Special coupons stuck on them.  She combined that with a $8 coupon sent from the manufacturer and saved $23 on each can.  She spent under $27 on all three cans, less than the price one would cost.
Watch out for store special stickers if you are doing a promotion with a minimum spend requirement, they often do reduce your total so do not count towards points etc but you can find some great deals, I often check nearby stores when I am early for a meeting or waiting for a GO Train and have found some terrific deals.
Click here to read skmommy's full brag