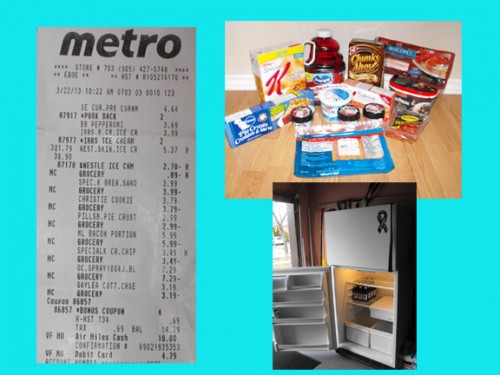 We all go through this at the end of the month, the "Oh no look at this great coupon I never used" and run to the nearest store to redeem.  Koolaid is obviously more organized than me, as she redeemed her expiring coupons last weekend, combining her coupons with bonus Airmiles deals at Metro.
Koolaid bought a few items without coupons *shock* but her total for this haul came to $14.79 including taxes.  She redeemed 95 Airmiles for $10 (you get 25 Airmiles back when you redeem) plus earned 10 Airmiles on items bought.  A great way to combine ways to save to bring down your total.
Koolaid also scored a free fridge so she can stock up on more items!
Click here to read Koolaid's brag to see the full breakdown of her purchases.
Have you used up your March expiries yet? Only a few days to go and the most stores are closed Friday & Sunday for Easter.