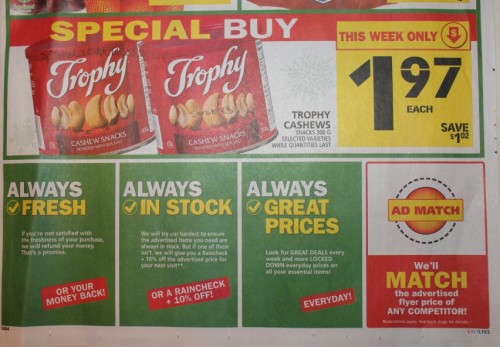 Thank you Forum Member Momi for letting us know about this fantastic opportunity in the Smart Canuck Forums!
If you are a Food Basics shopper, then you will be excited about this announcement! As FallenPixels has previously mentioned, Food Basics has advertised in their flyer that they now Ad Match! Make your grocery shopping a one-stop shopping trip at your favourite supermarket again! Food Basics is always fresh, always in stock, and now: always great prices.
I personally am a Food Basics Shopper but had always gone to WalMart because of their price/ad matching. Now I no longer have to! Is this worth changing your supermarket for? Or will you still shop at WalMart and other competitors?
On a side note.. this Food Basics flyer page also says Trophy Cashews are on sale for $1.02 off regular price.. Someone stock my stuffing with those please?
Check out Momi's post about Food Basics Ad Matching in the Smart Canucks Forum here.