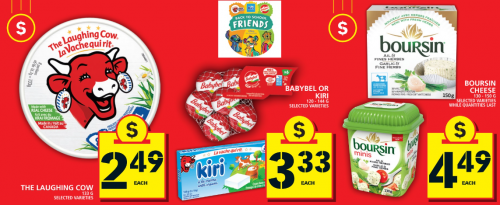 You can get some great deals on The Laughing Cow and Boursin cheese this week at Food Basics Ontario, using printable coupons or cash back offers that are still available from GoCoupons.ca.
Until September the 7th, Food Basics has The Laughing Cow 8's advertised for $2.49. Use the $3 when you purchase two cash back or printable coupon offer from GoCoupons.ca through the link below, and pay just 99 cents each. Boursin cheese or Boursin Minis are $4.49 this week, and there is a $2 printable coupon or cash back offer available for both of these, and you would pay just $2.49 each. Just as a reminder, you are meant to use EITHER the cash back offer or the printable coupon, and they are not to be combined. Food Basics might not be the friendliest of stores when it comes to accepting printable coupons, so you might want to choose the cash back offers in this case.
Click here to visit GoCoupons.ca for Boursin and The Laughing Cow cheese offers.