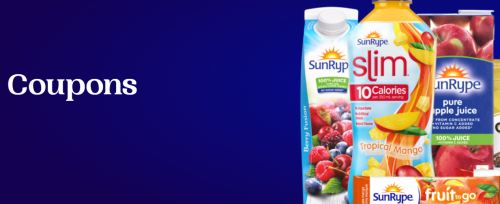 SunRype Canada has a couple of new printable coupons, and you can find these new coupons through the link below. The first of these coupons is for 50 cents off the purchase of any SunRype beverage product. The second of these new coupons is for 75 cents off the purchase of any Sunrype snack product.
These are pdf coupons, however, these do have a unique code each time you download the coupon. This means that while you are able to do multiple prints, you must download the coupon again for each print that you want to do. If you download the coupon only once and print if five times then you would be using copied coupons for which the retailer will not be reimbursed.
Both coupons are valid until October the 4th, 2022, and this week the Sunrype Slim is on sale for $2.79 at both Shoppers Drug Mart Canada and Real Canadian Superstore Ontario. If you use the coupon for 50 cents off Sunrype beverages you will pay just $2.29 each.
Click here to print your coupons for SunRype products.