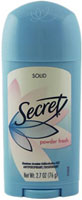 In the Pharmaprix (QC) Sept. 11-17, 2010 flyer, Secret Invisible (45 g) or aerosol spray (175 mL) is advertised for $2.99. Use your Save $9 when you buy 3 participating brands (includes Secret, Satin Care, and Olay) coupon from Brandsaver.ca and get them for free. I`ve been waiting for this coupon for awhile now so I hope it comes before the sale ends. This sale is also in the SDM Ontario flyer, and hopefully the rest of Canada. If you prefer Secret Flawless or Secret Scent Expressions, they`re on sale for $3.99 so using the same coupon you`ll pay $0.99 each.
Click here to view the Pharmaprix (QC) Sept. 11-17, 2010 flyer posted by the thetonester521. Thanks!
Alternatively, if you have a Loblaws near you, the same product is on sale for $1.64 so if the cashier actually lets you use the coupon, then you`ll get them for free and then some. Thanks to cesme77 for posting the Loblaws flyer!