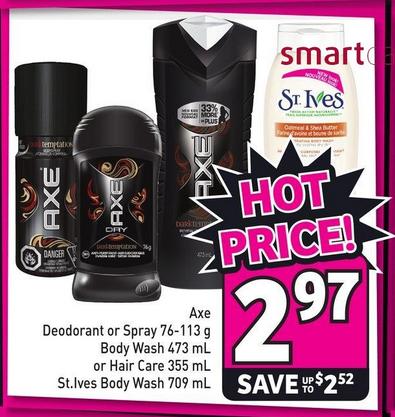 Beginning tomorrow, September the 10th, 2015, there is a hot deal to be had on Axe body wash from Freshco Ontario. Axe Deodorant or Spray, Body Wash, or Hair Care is on sale until September the 16th, for just $2.97.
Last weekend you may have received the latest edition of the RedPlum coupon insert with your flyer bundle or newspaper, containing a coupon for $4 off when you purchase two Axe Body Wash products. Use this coupon and pay just 97 cents each!
If you did not receive the insert last weekend, they do sometimes arrive one week later in certain areas, so with any luck some of you may come across them by this weekend. If you do not receive the insert, there are other coupons out there, such as a peelie coupon for $1 off any Axe product. $1.97 each is still a fantastic price and be sure to check your rebate apps as well as there have been weekly cash back offers for different Axe products for some time.
Click here to view the Freshco Ontario flyer beginning September the 10th.