Today is Day 8 of Future Shop's 10 Days of web only deals. Today's deals is a refurbished (renovated) Palm Zire 72 32MB Bluetooth Handheld with Wi-Fi Card for $199.99 (regular price is an overpriced $329.99).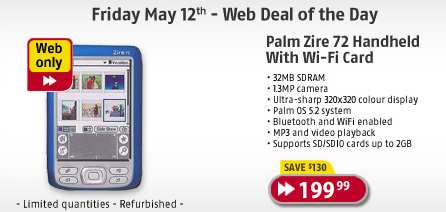 Palm Zire 72 is an awesome device with great capabilities. You can use it to surf the Internet, watch video, etc. It has an SD card expansion slot which means that you can buy an additional SD card to store up to 2GB of data!
My only concern is that this Palm Zire 72 is refurbished. I would never spend $199.99 on a refurbished item! Not only is it too much for a refurbished item, but the person who originally bought it might have used it in the washroom or might have dropped it. But that's just me.
Check out the refurbished Palm Zire 72 32MB Bluetooth Handheld with Wi-Fi Card here