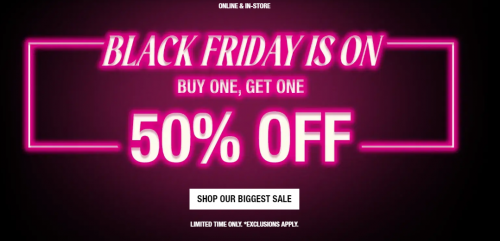 The Garage Canada Black Friday sale is on, and you can now get buy one 50% off on items sitewide. This does include items on sale, so be sure to check out those items as well for some really great prices. Some sale items are final-sale however, so be mindful of that when shopping. They are clearly marked as final sale so you can't miss it.
The buy one get one 50% off promo does apply automatically at checkout, so you won't need a code for that. If you happen to have a loyalty code, you won't be able to combine it with this offer. Applying a loyalty code like 10% off will override and cancel out the buy one get one 50% off.
This offer is valid both in-store and online, and if shopping online shipping is free on order of $60 or more. Returns by mail are also free within 30 days of purchase.
Click here to shop the Garage Canada Black Friday sale.