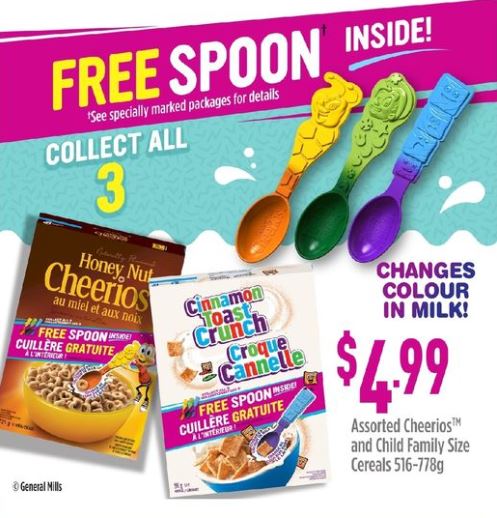 It seems like it's been some time since General Mills has had any type of cereal promotion, but a new one has just arrived! While quantities last, get a free colour changing spoon inside specially marked boxes of General Mills cereal.
There are three different collectable spoons and they are found right inside the box. There is no need for PINs, or uploading receipts, etc., for this promotion. The spoons change colour in milk and you can collect what look like a Cinnamon Toast Crunch spoon, the Lucky Charms Leprechaun spoon, or the Cheerios honey bee spoon.
These spoons are found in the family size specially marked General Mills cereal, which is the 516-778g boxes, which are on sale for $4.99 at Metro starting tomorrow, $3.97 at No Frills starting tomorrow, and $3.98 at Real Canadian Superstore Ontario starting tomorrow.