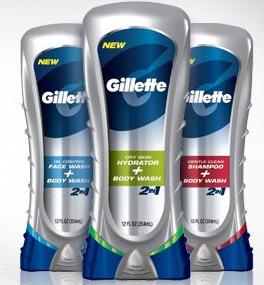 This week Atlantic Superstore Jan.29-Feb.4 has Gillette body wash on sale 2 for $5.So if you purchase 12 and use 4 of the $5 when you buy 3 Gillette product coupons you pay $10 plus the tax on the full price.But with the double coupon offer that is on right now you will get another $20 back when you mail in your receipt.So you make $10 minus the tax and the price of a stamp.You can still do the double your coupon saving with one coupon but I always like to maximize my rebate!!If you don't have any of the Brandsaver coupons you can check the  Canadian Coupon Trading and Discussion Section in hopes for a fast trade.Other Loblaw owned store offer similar deals so check out the ones close to you as the mail in offer is valid at most of them.The double Brandsaver offer is only vaild till Jan.31.
Click here to go to the discussion thread.
Click here to get you mail in rebate form.
Click here to order your Brandsaver coupons.
Thanks to phgirly for the heads up!!