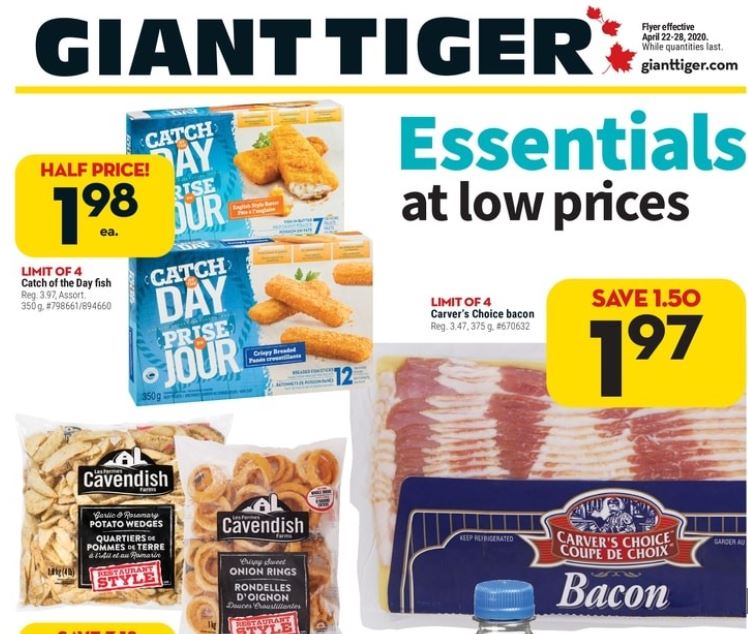 A new Giant Tiger Canada flyer begins today, and so you may want to make a trip there for your essentials. While I can't speak to the store stock situation, I have yet to notice any lineup outside the location nearest me, so perhaps it isn't quite as busy as some of the bigger chains. If you are able to get a fair amount of the items you need at Giant Tiger then it may be worth considering. Here are some of the advertised deals for this week:
Catch of the Day Frozen Fish $1.98
Carver's Choice Bacon $1.97
Cavendish Onion Rings or Potato Wedges $4.99
Dole Fruit Salad or Mott's Fruitsations $1.88
2L Pepsi Drinks .99
Stampede Pork Back Ribs $4.99
Lactantia Cream Cheese $1.88
D'Italiano Bread $1.97
4pk Hothouse Tomatoes, or Sliced Mushrooms $1.88
Primo Canned Beans or Tomatoes .99
Christie Crackers $1.99
French's Ketchup $2.44
Swanson Meat Pies or El Monterey Wraps .99
Wonder Wraps $1.99
Johnsonville Breakfast Sausages $3.47
Click here to view the complete flyer on our forum.